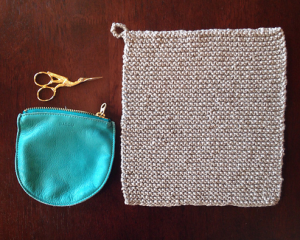 This mother's day I've decided to knit face cloths for my mom and mother in-law. I picked a super soft cotton yarn and started out with a simple stitch to see how it would fare as a face cloth. I choose Cascade Yarns Luna in a Taupe color.
This is a great project for someone brand new to knitting because all you need to do is knit every row until the piece measures the desired size. Knitting every row is called Garter Stitch.
Live Light Practice:
Pick up some knitting and make your mom a face cloth – learn a new skill and have a nice gift for your mom.
Yarn: Cascade Luna
Needles: US 7 (4.5 mm) straight needles
Gauge: 18 stitches = 4″ (10 cm) (gauge isn't very important for this pattern)
Pattern:
Cast On 36 sts
K every row
Once piece measures 9.5 in. or desired length bind off, but keep last stitch on needle and knit that one stitch 10 times to make a little chain. Then connect the yarn to the cloth to make a small loop. Finish by weaving in ends.
Blocking optional.
Finished measurements 8.5 in x 9.5 in
Questions? Email knit@lizalaird.com