The Good Kind of Challenge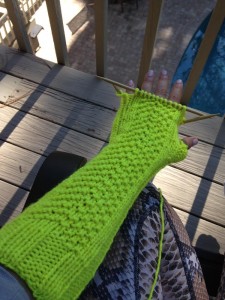 Since fall hit the Boston area I have been on a knitting kick – can't stop, won't stop. It has been so much fun. For a while now I have wanted to start writing my own patterns, but to be honest didn't believe that I could do it. Then one of my scarves I knit sold for $95, and I was like okay maybe I can (and should) make my own patterns and sell my stuff.
So the pattern making has begun and it is a little more challenging than I thought it would be – but a good kind of challenge. It makes me pause and really plan out what the project will look like. I really had to be present, and mindful of what stitches went where. Over the past few days I have been working on creating an arm-warmer pattern. As I was creating the pattern my dog, Cosmo, was sitting in front of me. Her pointy ears were perky and alert. Cosmo's ears gave me the idea to include a triangle in the pattern. That was how the triangle pattern was born.
It felt like getting the correct rib pattern and stitches was slow going at first, but it really only took me two days to knit the left arm-warmer. It has excited and inspired me to get started on other projects as well. Maybe a cozy sweater or traditional Christmas Stockings next…
Oct23