Hello beautiful 
Here's a little self-love practice to start your day.
Live Light Practice:
Look in the mirror and say "hello beautiful". No back talk, no comments. Just smile and start your day with appreciation.
Apr22
It's Wrap Time
With this never ending winter I decided to design a wrap (or vest really) that could keep me warm while not having to wear a full on sweater. It was a fast knit since I used Cascade Magnum, and I've really been enjoying wearing it! It can be worn as a vest, or with a pin clipped in the front, and one on my favorites it using in as a blanket on the couch while reading or knitting.
You can purchase the pattern on Ravelry or in my Etsy Shop. If you prefer to order the wrap hand knit by me I do custom orders just email knit@lizalaird.com.
Apr20
Gotta get upside down!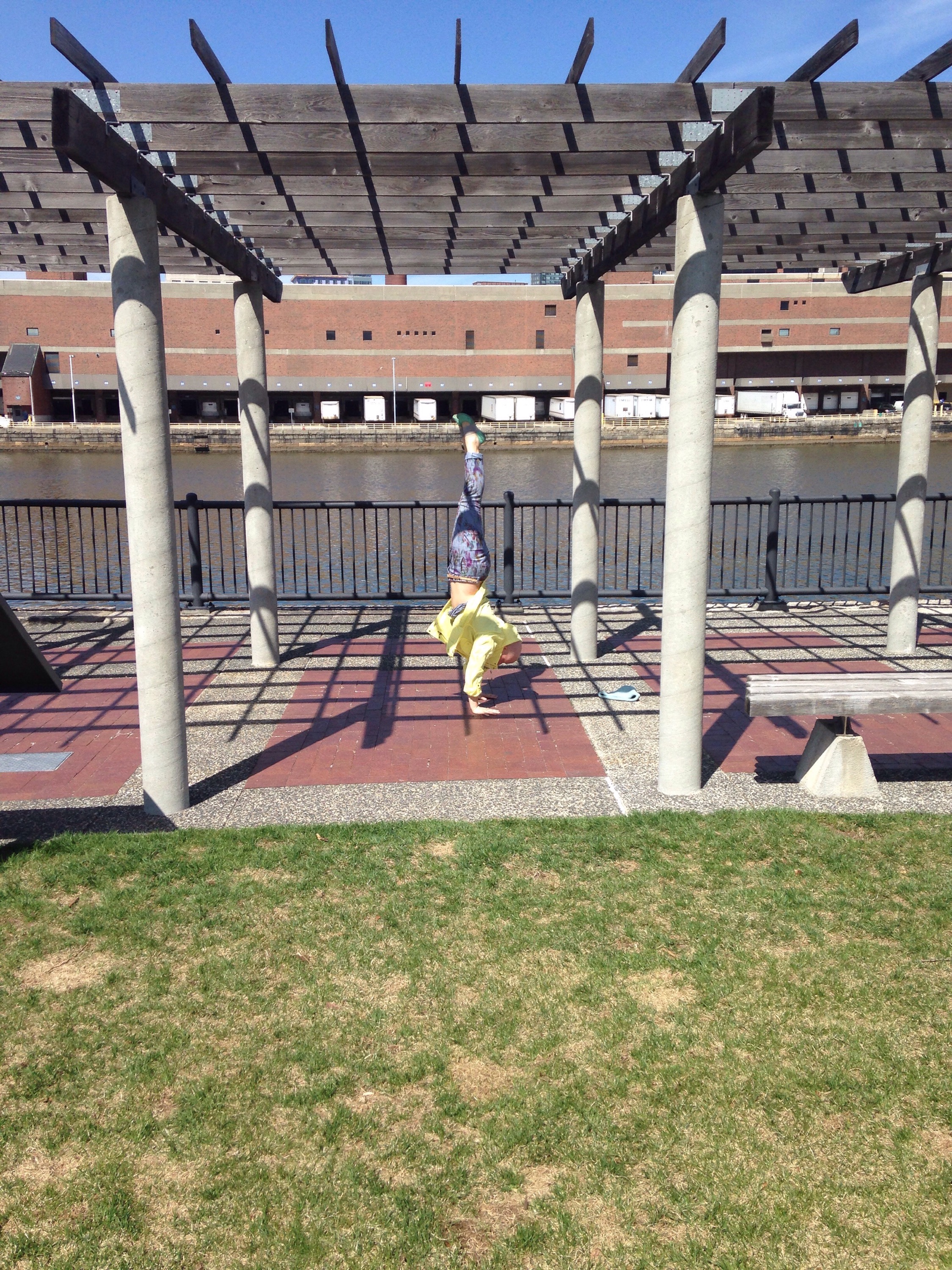 Have you ever had that feeling where you just need to flip your perspective? Where you would rather be on your hands or head instead of your feet? This is a feeling I have often. I find such a childlike joy from inversions. Handstands always bring a smile to my face, no matter if it's a "good" or "bad" handstand it makes me happy to play upsidedown.
In the photo above you'll see my handstand I played with the other day while out walking my dog with my husband. While in the handstand, from lifting up, being in the pose, and coming down I felt strong, confident, youthful, and happy. Then I looked at the photo and started picking apart my alignment and I began to loose those feelings that inspire me. Originally I thought I can't share this photo online since my alignment is off. Deciding to forget about it I moved on with out posting the photo. Later in the day I realized how silly it was to not share because my posture wouldn't make it to the cover of yoga journal. What was important in that moment was the strength and power and ease I had felt within myself. Handstands bring me joy and sharing a photo of me in a handstand shares the joy.
All the photos we share online don't need to be perfect. They express a moment in time. That's where captions come in handy so we can get a sense of what the person taking the photo was trying to evoke. For this picture I am hoping to show joy, spring, that you can stop and play with a yoga pose anywhere – no yoga mat required. Also, that a pose is more than an alignment of bones, it evokes emotions and builds confidence, strength, and flexibility on and emotional and physical level.
Yoga poses like some knitting projects can be works in progress for months, years, a lifetime. Allowing us to share those imperfect moments shows our human side and allow for softening. What I mean by softening is a removal of judgement and an ease with being in the moment and not jumping a head. Finding your way into a handstand is done in stages and each progession gets you closer to a solid handstand, but there are always adjustments to be made that could take hours or years to integrate into your being. The same in knitting, it's a progression of learning new techniques to create beautiful art with no particular end date.
Live Light Practice:
Take a picture to capture a moment of joy or inspiration. It doesn't have to be perfect, play with what the imagine evokes in you and how you felt in that moment.
Apr18
Quiet Time
When is the last time you shut off your phone, stepped away from your electronics or just didn't say anything for a few hours? I've been finding myself drained lately and I have found what revives me the most is quiet time. Time where I'm not reading, not knitting, not doing anything and not saying a word. The power of what comes from silence is amazing. From silence can come energy, creativity, and inspiration.
Live Light Practice:
Step away from all things electronic and even magazines, books – anything that can distract you. Try for just 3 minutes to be with the silence, not reading, talking or doing anything.
Try this every few hours and see what you notice.
Apr17