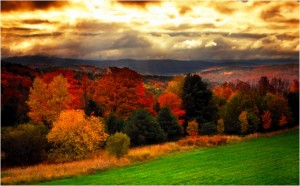 Sleepaway camp is fun when you're a kid because—hello—no parents. If only you could go back as an adult to appreciate the trees, the friends, and the abundant crafting opportunities.
You can! The Yoga + Yarn Retreat in at Good Commons in Vermont from November 3-6, 2016. All levels of yogis and knitters are welcome for the serene long weekend.
You'll feel rejuvenated at the picturesque Good Commons retreat center, where you'll relax to the max while practicing with yoga and knitting instructor Liza Laird and knitter Kate Madden (Kate and Liza are the founders of Ragline Knits).
No prior yoga or knitting experience necessary.
As if feeling uber-relaxed wasn't enough, all meals, and supplies are included.
Included in price:
– room and board
– all meals
– 6 yoga classes (taught by Liza)
– knitting support and instruction (both Kate and Liza are there to help!)
– knit kits for beginner, intermediate or advanced (you just let us know your preferred kit and we'll have all the supplies you need.)
Not included:
– transportation to and from Good Commons
– optional excursions to local farms, and yarn shops
– massages
Tentative schedule click Here.
Reservation and Payment Information:
An advance deposit of $250 is required to reserve your space on this retreat. All deposits are non-refundable. Payment via paypal.
*Loft: $625
*Shared Room: $799
*Private Room: $950
Click below to make your deposit today.
Deposit due by July 20, 2016. Remaining payments made by September 20, 2016.
A $100 cancellation fee will be charged if you cancel before August 6, 2016. No refunds will be given after August 6, 2016 unless I can fill your spot from the waiting list. The $100 cancellation fee will still apply.
Note: Pricing includes room and board, meals, yoga, and knitting. Pricing does not include transportation.
*The loft is a shared room with 8 beds and 2 bathrooms – the way sleep-away camp was meant to be!
*Shared rooms are two beds to a room and a shared bathroom.*For a private room you have the room all to yourself and a shared bathroom.
If you are interested and would like more details email info@raglineknits.com.
Here are a few great photos from past Yoga + Yarn Retreats!